Posted on
By Miryam Fossati & Danielle Wishka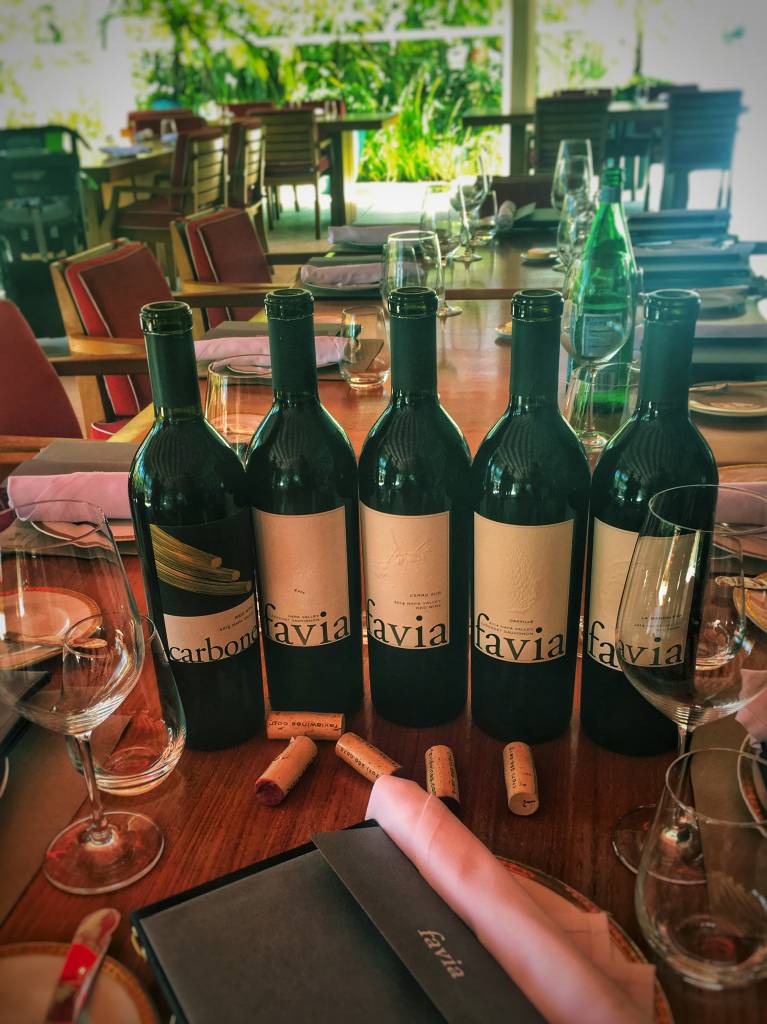 At The Wine Wave, as with many wine-centric restaurants and retail spaces, we are always excited for new educational opportunities ...
At The Wine Wave, as with many wine-centric restaurants and retail spaces, we are always excited for new educational opportunities with our fellow industry compatriots. We are also always excited to share this knowledge with our customers and followers.  It is certainly not everyday we get to taste wines at the caliber of Favia Wines. Thanks to Progress Wine Group and Los Fuegos in Miami, in April we enjoyed a paired portfolio tasting and were blown away by this unique experience.
Favia Wines is a collaboration between winemaker Andy Erickson and viticulturist Annie Favia. Both are dedicated to creating soulful wines that reflect the true nature of the terroir and environment. For context, if you have you heard of Screaming Eagle Cabernet-based wine from Oakville - Erickson is the man behind Screaming Eagle, Harland Estate and Staglin, among other projects for which he still collaborates. The Erickson we met is a man passionate about his craft, excited to tell you about his wines come to life and in love with the land - for which he and his wife have made home.
Andy Erickson and Annie Favia don't just collaborate in the vineyard, but also in life. This family project kicked off in 2009 when Favia turned her attention to Favia Wines while they also raised their two young daughters. Like Erikson, Favia has a great track record for her experiences as a viticulturist, having worked with wine goliaths like John Konsgaard, Kathy Corison and David Abreu. When they kicked off this project a San Francisco publication wrote, "Together they could probably create a 98-point wine in their sleep."
But this project is not about names and points. This is not just a winery but also their home. Favia Wines is housed in Coombsville on the historic Carbone property. Erickson and Favia are fully restoring the original residence and "live above their resting wine barrels." This Italian stone cellar and residence was built in 1886 and, like the preservation of the land and holistic approach that goes into each bottle, is an important part of the wines' history.
We tasted through a lineup of five wines + a special bottle Erickson brought for our South Florida lunch group. He felt it would be the perfect summer wine for our warm, sunny weather climate. (#winning!)
All of Erickson's wines are complex and full of layers of expression, developing in your nose and then on your pallet as they rest in your glass ready for the next sip. We tasted them alongside fresh vegetables, grilled meats, traditional empanadas and roasted potatoes served family style. The wines and gourmet cuisine complemented one another perfectly, creating a wonderful experience through a shared meal, shared stories and shared laughs while hearing the tales these wines have to tell.
85% Cabernet Franc and 15% Cabernet Sauvignon. Only 440 cases produced.
It shows a dense ruby/purple color and is a rich, medium/full body wine with dark fruit characteristics of prunes, raisins, blackberry and dark cherries. The pallet is complex with multiple layers of liquorice and lavender moving into raisins and cherries, finally ending with some earthen terroir notes and smooth tannins. This wine definitely has the potential of aging for 20 years or more and will only get better with time.
Click HERE to purchase. 
2014 Favia "La Magdalena" Napa Valley Red Wine
54% Cabernet Franc and 46% Cabernet Sauvignon. Only 249 cases produced.
La Magdalena also shows a dense ruby/purple color but is much lighter in texture and flavors than the Cerry Sur. It is more about young fruits, flower notes, some forest floor and smooth oaky elements. La Magdalena is a medium/full body, complex and elegant wine.
2014 Favia "Coombsville" Cabernet Sauvignon
100% Cabernet Sauvignon (unfiltered). Only 271 cases produced.
Deep purple in color, Coombsville shows strong notes of dark fruits, chocolate, espresso and dry herbs. The pallet is complex with layers of blueberries, dark cherries, some cacao and caramelized sugar/vanilla coming from the oak. Soft and gentle tannins complement this medium/full body elegant and sexy wine. Perfect to drink in the next 15 years or more.
2014 Favia "Oakville" Napa Valley Red Wine
97% Cabernet Sauvignon and 36% Petit Verdot. Only 294 cases produced.
Oakville is more masculine and strong compared to the Coombsville. It has great structure and complex body with strong tannins wrapped around layers of black grouts, dark chocolate and earth aromas. As it opens in the glass, notes of cassis, dark cherry, spices, herbs and oak flavors are more evident. Definitely a power house in the glass that can be enjoyed now and for decades to come.
2015 Favia "Carbone" Red Wine
47% Cabernet Franc, 41% Cabernet Sauvignon, 6% Merlot and 6% Petit Verdot.
The Carbone is ready for drinking and has the potential of aging and improve over years. It is much lighter than the previous wines but still utilizes complex, multiple layers of flavors. The most predominant are raspberry, coffee, some fresh herbs.
…..and the surprise of the day!
2013 Favia "Rompecabezas" Red Wine
44% Grenache, 32% Syrah, 24% Mouvedre. Only 527 cases produced.
"Rompecabezas" (Spanish for "jigsaw puzzle") is inspired by Southern Rhone wines but definitely California in nature. This is the perfect summer wine because it is complex and well structure but at the same time is light and interesting. Like a jigsaw puzzle, it has many different elements of flavors that fit perfectly into one bottle. It's very aromatic with notes of berries, rose petals, nutmeg which in the pallet evolve into plums, raisins, cocoa and spices. Fine tannins and balanced acidity intensify the flavors in your mouth. All we had to say was "WOW" because with each sip something new developed in our mouths.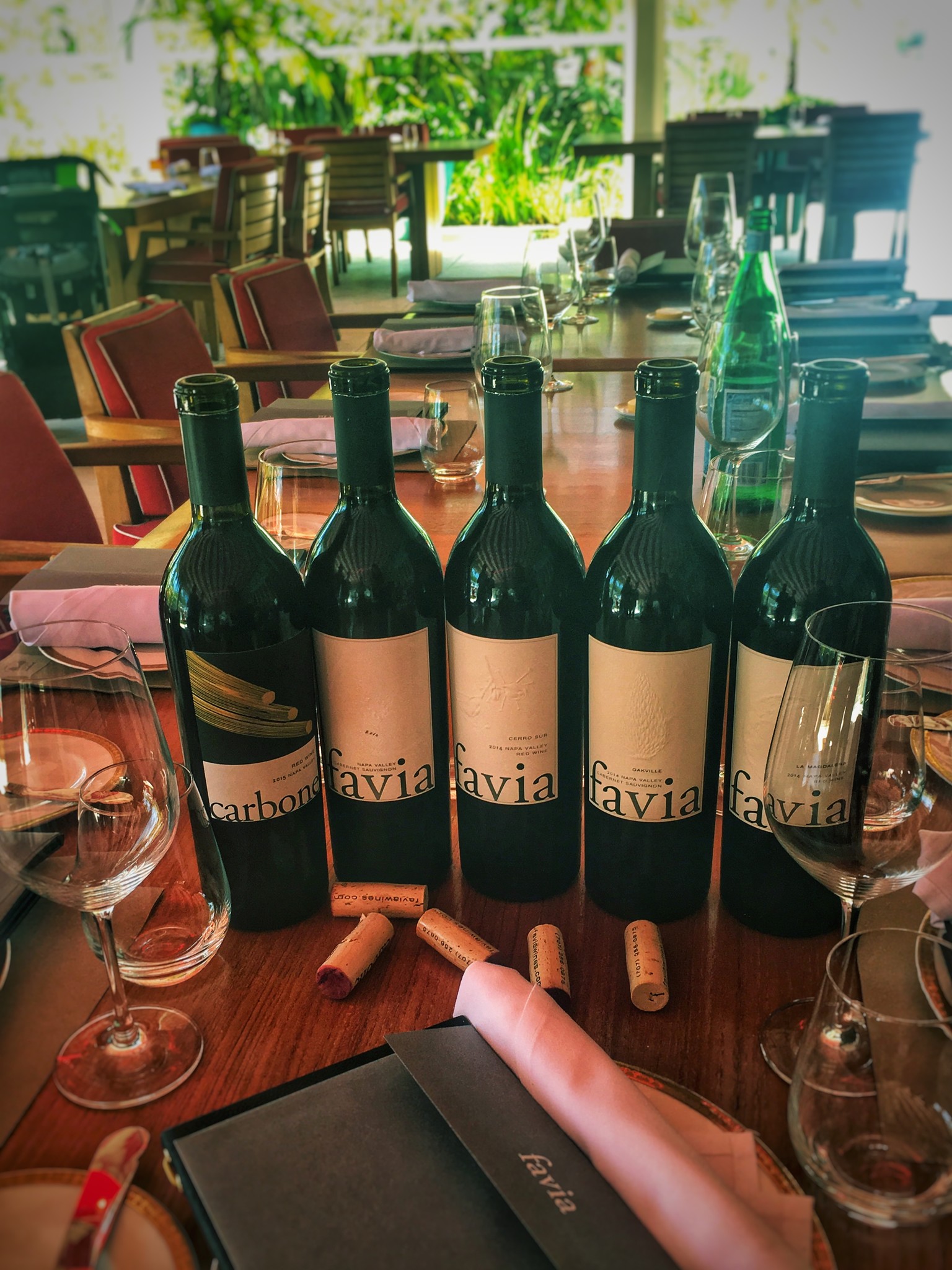 "A Superstar Couple Carve Their Own Path." SFGate, San Francisco Chronicle, 13 June 2010, www.sfgate.com/wine/thirst/article/A-superstar-couple-carve-their-own-path-3261956.php
"Favia Erickson Winegrowers." Favia Erickson Winegrowers - Homepage, www.faviawine.com/.