Posted on
By The Wine Wave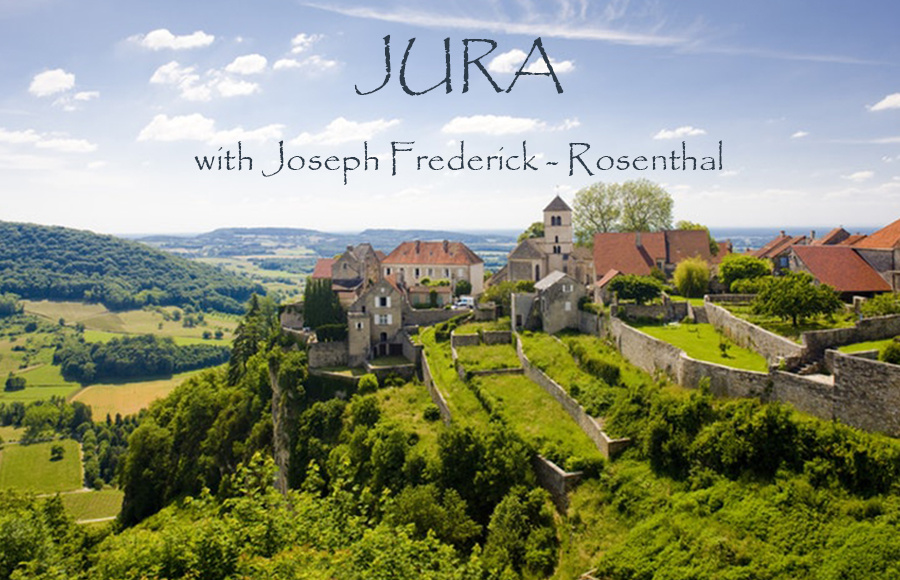 Explore the region of Jura with Joseph Frederick from Rosenthal Merchants as he takes us around this interest region in France. This is a great opportunity to learn and taste some wines from an up and coming wine region.
Domaine Pecheur 2016, Poulsard, Côte Du Jura
The Poulsard is a delicate wine that would not perform well in small barrel, so part is vinified in 600L demi-muid with the balance in steel tank. Wild red berries, pale color and a pleasant airiness make this wine a delight to drink.
Domaine Overnoy-Crinquand 2015 Ploussard, Arbois-Pupillin, Jura Rouge
Produced from a mix of Ploussard (60%) and Pinot Noir (40%) which are co-fermented. The wine is then aged in stainless steel for one year and one year in 225 liter barrels. A single vineyard wine, the Bernardines site is within the confines of the village of Vadans.
Domaine De Montbourgeau 2012 Cuvée Spéciale, L'Etoile, Jura
This elite cuvée of Chardonnay is Madame Deriaux's special selection from her best Chardonnay plantings. Like the pure Savagnin cuvée, it is left to age for many months (in this instance usually 48 to 60 months) in barrel without racking and without topping off. It is a wine for the ages with a vibrant acidity underlying a dense and concentrated body with notes of
beeswax and honey and resin and minerals.
Domaine Overnoy-Crinquand 2013 Savignin, Arbois-Pupillin, Jura
The best Savagnin is produced from poor soils underlain with "marne grise" and the Crinquand Savagnin is planted in a singular one hectare parcel of compact grey marl. Vinified in large, old oak barrels and left there to age about four years before bottling, Crinquand's Savagnin is a profound wine marked by notes of beeswax, cacao and walnut with a penetrating, long, almost tannic finish. Certified Organic.
Les Matheny 2011 Vin Jaune, Arbois, Jura
The Foléats produced all of 200 bottles of Vin Jaune in the 2009 vintage, and we are fortunate to have access to a sliver of that tiny pie. Like the Savagnin, this comes from vines in Poligny, quite close to Chateau-Chalon itself, and it offers an even more profound take on that esteemed terroir. "Non-interventionism" has almost become a cliché when discussing wines of a non-commercial bent, but it truly does require immense courage and the full internalization of trust-in-nature to produce great Vin Jaune—and you'd be hard-pressed to find a more explosively dynamic example than this one.
Joseph Dorbon 2011 Macvin Du Jura, Jura
Made exclusively from old vines Chardonnay; Far and away the best Macvin we have ever tasted; aged 10 years in a single barrel; a sweet caramelized nose yet fresh and round on the palate. Great acidity.